LA GRANDE TRAVERSEE DE SACHA

Sacha a traversé les Pyrénées de Hendaye à Banyuls du 30 Juillet 2013 au 4 septembre 2013!
retrouvez dans cet article son interview et le récit jour par jour de son aventure!


SUIVRE SACHA - L'INTERVIEW par chaigneau40
(utiliser google traduction si besoin google traduction)
mercredi 4 septembre 2013
jour 37
Wednesday 4th September. Waking up by the grand walls of the Fort de Bellegarde, I realised today would/should be my last final "sprint" of my odyssean mountain traverse. This filled me with both excitement, but also apprehension. I quickly visited around the fort, and 30 minutes later I was in the small dwelling of Perthus. It's a rather grim duty-free border town with a plethora of tacky neon-lit shops and 2nd rate mini shopping malls promoting unwarranted consumerism, mostly for brainless plebs. The motorway overpass 300m away didn't help for charm or genuine atmosphere, so I just charged my phone and updated my FB with some good 3G connection. If I were to add up all the time I had to wait to charge my phone, and same with all the hours I spent penning my FB posts/comments/answers and uploading them through an excruciatingly slow 3G/EDGE connection, and if I converted it all to walking time... I think I'd have done the whole trip in 30 days!!! But that's not the point, since despite "racing" against myself, I always wanted the rewarding interactivity which FB and www.gr10.fr have provided. By early afternoon I had reached the Pic Neulos, my last incursion above 1000m, where a mad south wind from Spain tried its best to knock me off my feet! Ignoring the huffing and puffing of Mother Nature (sorry Lady, I'm nearly done, and without a cloud in the sky... there's nothing you can do to stop me...!), I enjoyed the 360° panoramas with, to the east, the vast Mediterranean coast visible as far as the eye could see and, to the west, the dramatic silhouette of the Pic du Canigou. At 14:30 I was joined by my young companion Sébastien Sotoca (thank you FB for enabling such encounters!) who I saw from 500m away running up the slope! Wow, this young man is a very keen trail runner indeed, and at not quite 17 years of age, he's already competed in many races, and even represented the French National Team! He also knows Killian Jornet (the Spanish/Catalan "alien" who holds most world records of crazy speedy summit ascents or extreme trail races). I was very excited to have such a talented companion for my last few hours of trekking, providing some social interaction for the finale, as a contrast to all those hours where I had trooped along alone. First I had a quick lunch since Sébastien had brought me some Yop drinkable yogurt, a pain au chocolat and a pain aux raisins! Wow... what a taste sensation that was :))) With introductions out of the way, we had to bounce on since there was still more than 5hrs left till the end. And if I had expected a soft landing with gently rolling hills... I got dished out something else altogether! The last descent was really rather steep and very rocky indeed. Alas my mind had kinda moved on to other preoccupations, and my body had to deal with heavy legs and subpar stamina. My left foot (injured toe) began hurting again, and it all became just a bit tiresome. But thanks to Sébastien's presence I made a final foray into my reserves and found the grit to bite the bullet and hammer this thing out once and for all. At one point I even went into maximum overdrive and began running downhill (but not on the steepest parts, not with 15kgs on my back...) through the rocks. Rapidly I found my pace, kept my breath, and before I knew it... I was cruising! Wow, it even felt liberating to a certain extent, and my foot hardly hurt! So much happens on a mental level, it's astonishing. As a result we won 30 minutes on our timing and were certain to arrive before sunset. Alas, that would still be too late for Loofille Demetz to greet me, but she'll come tomorrow afternoon instead. So I'll get to spend one last commando night in Banyuls-sur-Mer, and I'll enjoy the beach tomorrow morning, before heading to Perpignan! As we reached the final slopes, we crossed extensive vineyards from where the famous Banyuls sweet wine is made. Having already enjoyed some blackberries (again...), we made a quick pause to pluck a handful of ripe grapes which treated us to a sweet juicy nectar. And before I knew it... at 20:15... I stood before the town hall... in front of the GR10 arrival plaque. My route was finished...! I'd like to say I was overwhelmed with emotions, as I thought I'd be, even to the point of crying, but in fact... I was just there. Of course I was happy, relieved also, and we snapped some commemorative photos, but rather than an explosion of joy, a sense of "ok, and what's next?" emptiness krept up on me. Existential considerations aside, Sébastien was greeted by his family and we had a drink at a bar terrace, right opposite the beach. After they left, I stayed at least an hour alone, whimsically watching a few tourists wander around. The summer season is over, it was night time and getting frisky, and essentially all was very quiet and tranquil. My sense of introspection deepened, an indescribable mix of both subdued joy and uncertainty as to what lies ahead. The last 37 days, in many regards, have been EXTREMELY EASY. Essentially, everyday I was faced woth only one question: where do I go next? And I only had one answer: it's xyz, so stand up and walk there. "Just keep walking, eat when you need to, and keep walking; the clock will take care of the rest": that was my underlying command. If I were to exaggerate, I was like a worker ant, with a set task, and the gall and resolve to achieve it. Now... well, now the myriad complexities of everyday life loomed ahead: EXTREMELY COMPLICATED. But hopefully this adventure will have taught me how to better deal with challenges. It was now getting on past 10pm, and all this philosophising wasn't going to help me find a place to sleep. I considered sleeping on the beach (it's been ages since I've done that... Costa Rica 2005 maybe?) but it proved to be too rocky and also way too open and public. So I returned to the safe bet I had spotted at the entrance of the town just as I was arriving: a good old abandoned building with a door wide ajar just begging me to squat it. As I lied down I contemplated the "enormity" of what I had accomplished: I had just walked 900km across the entire width of the Pyrenees, from the Atlantic to the Mediterranean. Wow! But still this apathy echoed in me, and I couldn't find the energy to inform anyone by text message I had finished. Was I playing the suspense game? Was I being flippant? Perhaps I was just exhausted and "numb" from the aftermath of my odyssey. It was certainly a little bit of all this, and it most definitely felt strange. And so I went to sleep, "victor ludorum" of my very own Pyrenean Games, both very proud and yet also rather humble. Still... deep inside me I could hear a fierce and defiant roar, reassuring me that I had what it takes to tackle new challenges upon returning to Paris: "this iiiiis SPARTAAAAA!"

(Banyuls)
mardi 3 septembre 2013
Jour 36
Tuesday 3rd September. After a tranquil night in the tent, I indulged in breakfast with my fantastic hosts from the Moulin de la Palette, and enjoyed some debonair chitter chatter with Catherine and Laurent. They both recommended I try an unofficial route variant by the mountain ridges and crests avoiding some dull forests. It turns out that the GR10 often passes private land, and some landowners refuse the right of passage, creating some of the ridiculously stupid detours I've witnessed. I better understand some of the cretinous "donkey ears" and "Pinocchio noses" I've encountered! So GR10... we're nearly done, and I own you, I possess you, you're miiiine! :))) I left late at 11:20, and within 10 minutes I was sidetracked by vast bushes of scrumptious blackberries!! I think I must have spent 20 minutes royally feasting! Further up the path I saw plenty of lavender, which is quite representative of the region I think. Going on my AWOL skirmish away from the GR10 path did make for slower progress however, since the route is poorly marked and a bit rougher. I ended up strutting on parts of the HRP (High Pyrenean Road), and the "Camino 11" Spanish trek trail. The views from the Roc de France were quite extraordinary with a vast panorama on the Canigou. And I got to see the Mediterranean again! :))) On the Spanish side if the border I passed the Salinas Hermitage which was quite cool. And as the clock ticked on I got distracted by another blackberry bonanza! I'm not sure if today I've spent more time trekking or scoffing down whole handfuls of blackberries! LOL! As I reached the outskirts of the border town of Perthus, I set camp under the portcullis of the Fort de Bellegarde, a grand military construction from Maréchal Vauban. I texted Sébastien and arranged to meet up with him tomorrow after lunch for the last 3-4hrs of the journey! That is so cool! I'm very impressed by this young man's initiative, and I'm honoured to be accompanied. Loofille Demetz should also meet me/us in Banyuls to celebrate my arrival and also to make a video interview for Eric Chaigneau and his awesome www.gr10.fr website. I can't believe it... oh myyyy god (yes, that's with a small "g", thank you)... tomorrow should be my LAST DAY!!! 30km more and I'm there! A mere skip and a hop for the mighty Pugnacious Pyrenean Perambulator And so i went to bed at the walls of this fantastic 17th Century military fort, conscious this is maybe my last spartan soldier bivouac night...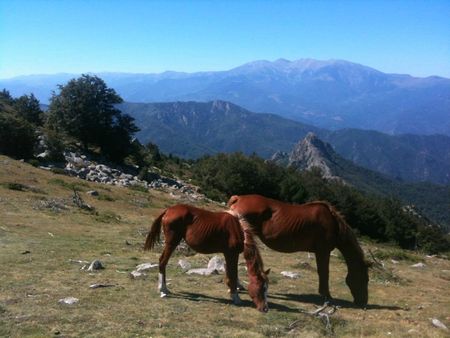 lundi 2 septembre 2013
Jour 35
Monday 2nd September. I slept really well and dropped by the Refuge de Batère, which had hosted a wild birthday party the night before. I was able to have a hot shower (my first in 7 days...), and whilst my phone charged I chilled and read some magazines. I finally got going at 11am, and nonchalantly trooped further down into the valley. I felt a bit lazy today, as if the trek was already finished, as if success was already mine. Admittedly, the views are also far less spectacular this morning, causing some carefreeness. I have to be watchful now... 3 days remain, and a fleeting moment's inattention can cause an accident or injury. On my way I saw some ripe blackberries, the first on this journey. Well... they were the best! So much easier to pluck than blueberries, so much sweeter than the raspberries: tastetastic yummyness! As I reached Arles-sur-Tech I was brutally reminded that I was in the deep south of France, and that temperatures can still be very high and above 30°C! I had kinda forgotten... with all this "high altitude" gallivanting at above 2000m, the climate has often been brisk (not to mention bloody cloudy and wet...). Now that I'm back down at 250m altitude... the summer is deliciously hot once more I stopped by a primary school to recharge my phone again (the battery drains soooo fast when you're using 3G...) and updated the last 3 days of my jolly mountain hopping. I found a decent sized supermarket and bought some Yop drinkable yogurt and Nutella! Urban creature comforts are soon mine... for better and worse Then an unexpected thing happened. I received a text message from an unknown chap by the name of Sébastien. He's a local teenager who has followed my peregrinations and wants to join me for the last day of the trek! How totally cool is that?!? So... whilst the idea is very seducing, as is the "pride" of being able to give back to my "audience" some of the companionship and support I've received, the logistics will need fine tuning. We exchanged a few messages, and we'll see how/where we're able to meet up in 1-2 days time. I have to say, if this pans out... it would be awesome to have someone accompany me for the final sprint, and also be able to share and "inspire" a youngster to go above an beyond his comfort zone, to reach out and make his dreams come true. At 17h I climbed on, and at 19:30 I reached the Moulin de la Palette guesthouse. If previously I've often privileged a SBAT (Special Bivouacs And Tactics... haha) approach to my spartan camping, tonight I thought it made zero sense to go and sleep, without a tent, in a freezing forest (the temperature amplitude was really massive, it's only 10°C at night!), and my hosts Catherine and Laurent were so very friendly and welcoming, I couldn't turn down an evening of conviviality. As I talked with Catherine it turned out she had worked at the Yssingeaux ENSP (École Nationale Supérieure de Pâtisserie) where my friends Emmanuel Vaganey and Nina Tarasova had studied in the summer of 2012! Wow, what a coincidence... it's such a small world! She knows Pierre Hermé, Christophe Felder and many other superstars of fine "pâtisserie". Later on I picked up a copy of Patrick Süskind's "The Perfume", read the last chapter depicting the fantastic bacchanalian orgy, and went to sleep in the permanent tent (my first time in a tent this trip!) set up in the garden.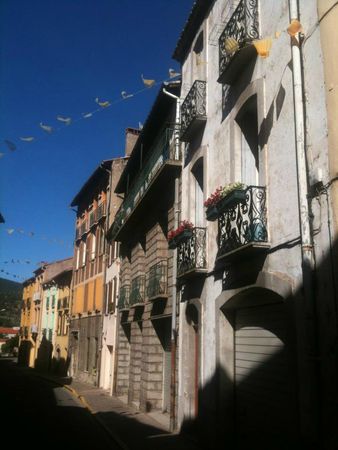 dimanche 1er Septembre 2013
Jour 34
Sunday 1st September. By my standards I got off to an early start at 8:15. Not being a morning person, my progress was slower than I would have liked, despite last evening's relaxation and good night's rest. Still, I bravely plodded on, with a fantastic goal: the Pic du Canigou, a quasi-sacred mountain for the Catalans (a bit like Mount Olympus for the Greeks). The final scramble up a "chimney" (that's the term used in French, but it's not a closed chimney at all. It's more like a narrow half-open gutter) to the peak was extremely steep and you're nearly rock-climbing. Damn I was happy I wouldn't be descending down the same route! Upon reaching the top, the 360° panoramic views at the 2784m summit were nothing short of stupendouuuuuus!!! I would say this was the most spectacular view I've had so far. You could see Perpignan in the distance, and far beyond. And I finallyyyyyy got my first glimpse of the Mediterranean Sea!!! Success is within sight! Soon it will be in within arm's/leg's reach, since if all goes to plan I hope to reach the beach at Banyuls-sur-Mer in 3 days! There was a slight down side though, but I managed to mostly ignore it. Since it was Sunday, the peak was packed with moron tourists. I had been warned that Catalan tourists flood the Canigou, but I am sorry and "ashamed" to say these cretins were very much French. Goddam it what a bunch of brainless fools! All you could hear was shouting and screaming "I farted first", "go on, get your bum out for a photo", "haha, look I'm pissing from the top of the Canigou" and other senseless idiocies. They were the worst kind: a proletarian group of dumb-fucks out on an outing. I said nothing, patiently waited for the flock of lobotomised sheep to go away, and was finally able to enjoy some (relative) peace and quiet. Scrambling down I went "off-piste" and took a short-cut through very steep blueberry thickets down to the Cortalets Refuge. There I chatted with a guy I had seen on the summit, who like I had a very big backpack, and who like I was totally unimpressed, but unfazed, by the group tourist fuckwits. This old gentleman, a Munich dwelling German by the name of Klaus, is also crossing the entire Pyrenean chain from Hendaye to Banyuls-sur-Mer in 50 days or so. The man is getting along age-wise (early 70s I'd say), but he's getting along even better trekking-wise! I was so impressed: maximum respect, old man! He could speak reasonable French and was endearing like the most sympathetic of granddads. I really appreciated my brief chat with him, as he with I, since he told me I was the very first other person he'd met who was also doing the full 900km trek in one shot (I've met half a dozen, no more). If I had more time, I think I'd have enjoyed to spend a few days trekking with him In an entirely different style, on my way further down, I walked past an absolute bear of a trekker: shirtless, heavy set like a lardy rugby player, at least 6"2', long black hair, thick beard, storming up the path like a grizzly!!! A Sébastien Chabal look-alike! In comparison I'm barely a teddy bear! As I reached the Batère iron mines at a tardy 9pm, I opted for survivor tactics, and shying away from the official mountain refuge I found some abandoned miner's buildings. With a metal bed frame from one building, and a foam mattress from another, I combined the two with some MacGyver backpacker DIY magic... and I had a comfortable bed! I lit my candle, pulled out my "Science & Vie" magazine for some bed-time perusal, but exhausted as I was... I fell asleep to mellow candle-light before even opening the 1st page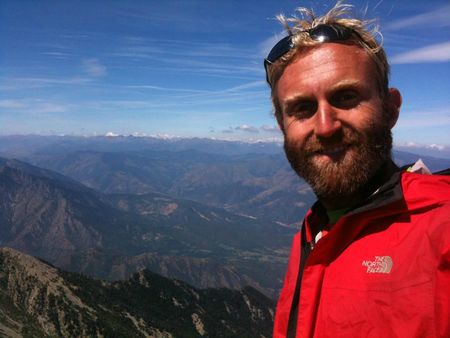 (Sacha au sommet du Canigou "l'Olympe des Catalans" - 793 ème km / 896km)
samedi 31 Août 2013
Jour 33
Saturday 31st August. I woke early to free up the dining room for breakfast, and enjoyed some morning banter with the other trekker guests. The sky was azure blue with fabulous sunshine, but there's frost on the ground!!! Brrrrr, it's cold = 2°C! I got cracking at 9am but was really slow with heavy legs. I felt totally lethargic, as if my batteries were flat. I was constantly hungry, chowing through chocolate bars far more often than I usually would. Clearly I pushed too much these past 2 days, and with a 1-2 day time-lag my body is now crying out for calories. I think I've lost 10kgs (of useless weight) since the beginning of this mountain ballad! Along the path I was so happy to be able to walk past dry vegetation without it spilling out a bathtub of water on me every time I brushed past it. Butterflies and grasshoppers are everywhere, making for a jovial entomological frenzy. I even saw an unlucky Jiminy Cricket being eaten by a lizard. After another steep descent which strained my poor toe, I reached the very cute Mantet village where I had a quick lunch pause. Further on Py village left me indifferent however. By mid-afternoon my energy levels were returning to quasi-normal and my pace picked up. I reached the Mariailles mountain hut at 1718m just in time to see a spectacular rich fulsome orange sunset over the legendary Pic de Canigou, which I plan on climbing tomorrow morning. At the refuge restaurant I ordered 25cl of red wine, and feasted on half my food provisions, eating much more than I felt hungry for. It feels good to pig out! Besides, after the past 3 days' Herculean efforts, it can't hurt to fill up the petrol tank to the brim! I relaxed, read a cult French comic from the restaurant bookshelf (Lanfeust de Troy, some French people will know it. It's absolutely brilliant), and soaked up the joyous, if boisterous, agitation provided by the Catalan tourists. Back at my mountain hut I was lucky to lay out my mattress by the log fire, and once again I fell asleep with 2 candles by my sleeping bag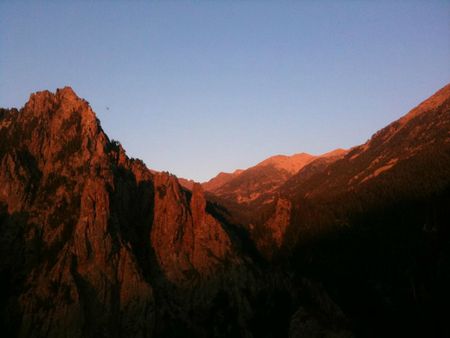 (Entrée dans le massif du Canigou - 775 ème km/896km)
vendredi 30 Août 2013
Jour 32
Friday 30th August. Ahhhh, how could I have forgotten in my previous post? Last night I received a flood of SMS messages encouraging me to push on, thanks to Eric Chaigneau who relayed my distress. That was so kind, all these people I didn't know (who have followed my adventures on the www.gr10.fr website) sending out a few words to motivate me. Totally cool! :))) So my night under the saddle mats was rather brisk but I slept well. At 6:30am I got "caught" by a guy who was getting his riding equipment ready, but he found it very amusing that I'd slept there and was pleasantly intrigued by my Rambo tactics! I strutted over to the top notch Les Bones Hores hotel, where Christian Lacoste was really courteous and welcoming. I treated myself to a champion's all-you-can-eat breakfast, as I'd had a gladiator's dinner in Bagnères-de-Luchon. What a phenomenal feast that was! I was given wifi access and updated 4 days of travel journal, relaying all my injury-related mishaps. All this journalism being very time consuming, I was only ready to leave at 11:35. The landscape is definitely changing now... I could smell and taste I'm out of the Ariège region! You can also hear the Catalan influence: language and names. Thankfully my cardio is full speed and my muscles full strength, and my foot is now barely a minor nuisance, so I was able to make really good progress. At Bolquère I saw the "Yellow Train", a quaint touristy affair similar to the one I saw in the Basque country near La Rhune. Apparently, at 1592m Bolquère train station is the highest train station in France, and even in Europe! A bit further on in the tiny village of Planès, I was enchanted by the really cute chapel. The rest of the day involved me pushing really hard all afternoon and evening. I reached the Ras de la Carança refuge at 21:45 with my headlight, totally exhausted. The final -500m, a very rocky and steep descent, killed me. My left foot ached like hell, but I hope it's just fatigue, not exacerbated injury. At the refuge I was able to get some lotion for my toe from the kind caretaker Camille, and I briefly chit-cheated with the other guests. The dormitory being full, I was invited to improvise a bed on the dining room table. Content with my recovery and day's advance, I nibbled my dinner ration and went to bed. As I lied down with 2 flittering candles on either side of my sleeping bag, the ambiance was truly magical in this rustic mountain hut dining room. I
fell asleep with the wicks still burning, lazily rolling over in my sleep to first blow out one flame, and a bit later on the second. How enchanting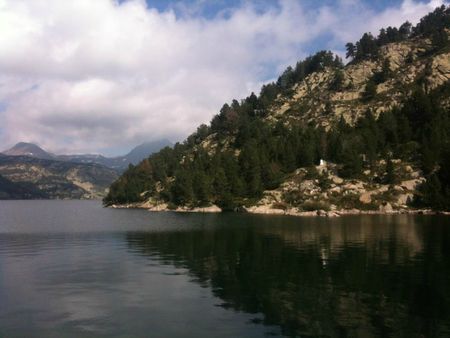 (le lac des Bouillouses - 721 ème km / 896)
jeudi 29 Août 2013
Jour 31
Thursday 29th August. I left my mountain hut and scampered down -600m far easier than I feared I would. My foot feels alright, not perfect, but assuredly better. As I reach Mérens-les-Vals I was elated at having finished my 3rd of 4 "topo guide" books (topographical maps + indications)! I'm more than 75% done!!!! Feeling a surge of optimism, and ascertaining that there's another train station in 1-2 days time I case I'm in dire straits, I decided I'd keep on track and see how it goes. I'm still shaken (and stirred...) from my mishap, but my confidence is returning 2 hours into my next ascent I saw 2 happy punter 3rd age hikers enjoying lunch, and jovially speaking with them barely 3 minutes was enough to put some sunshine in my soul Marching on I realised that I was far quicker than estimated times, and this boosted me to keep at it, to not give up. An hour later a helicopter flew low over the valleys just above me, and with a big smile I waved with my happiest arms wave possible. The pilot acknowledged and replied back by tilting the chopper back and forth and flashing his signal lights!!! Woooohoo, totally cool! :))) This was enough for me to accept I couldn't possibly forfeit victory and abandon the trek. Listen up mountain wench from hell: "I'm one tough sonovabitch, and I'm not giving up, you hear me fuckface?!?!? I'm not done with you yet, I'm taking you by the horns and I'm fighting on till the end. I will sooner die attempting success than live having accepted failure, so fucking bring it on bitchass, I'm ready for you!!!" As my delusions soared I imagined the Dirty Harry scene : "The question you gotta ask yourself is 'do I feel lucky?'. Now do ya? Go on punk, just try... make my day!". Hahaha! I amuse myself with my silliness! :))) As I reached the Refuge des Bésines I was greeted there by the most obnoxious and rude caretaker ever!! What a bloody tosspot cumrag wanker dickhead!!! I really have to make a complaint here. This piece of shit scumbag wouldn't even let me sit down at his terrace, despite my injury, since I wasn't a client. I'd barely spent 1 minute politely asking for directions that he disdainfully sneered at me "I don't understand you autonomous hikers". WHAT THE FUCK?!? Listen up jerkoff, given your moron brain, I wouldn't expect you to understand 2+2=4, but I do expect minimal respect!!! Not everyone hikes from refuge to refuge with their hands in their pockets expecting board and lodge like sheep tourists. Besides you retard fuckwit, if you do the HRP (High Pyrenean Road) you have to be autonomous by definition, since that route goes from crest to peak and never descends into valleys for creature comforts!!! Well listen up fucktard from hell... I'm not done settling my scores with you. You pissed off the wrong "autonomous hiker" (as if we're a subspecies...)! Anyway, having been positively energised before, now I was negatively energised which still helped me to power on. The landscapes today were truly amazing, I didn't see a single other living soul, and I was mesmerised by my smallness compared to nature's grandness. The Vallée de la Grave was extraordinarily beautiful, as is the Lac des Bouillouses, and seeing it all at dusk was magical. I had dinner at 21:30 and finished off the remaining half hour with my headlight. I localised a savvy hotel by the lake dam, and out back found a metal container (the type you see on cargo ships) that had been converted into a horse riding equipment storage hut. Well, I've never slept in one of those before, so yeeeeeha here I come! And the perk: the rugs that you put under the saddles made a perfect mattress and blanket! And a blanket isn't luxury here... I'm at 2050m and it's freezing cold! All in all I had an amazing day, I feel like a phoenix (albeit a slightly limping one), I feel reborn. Good night happy campers!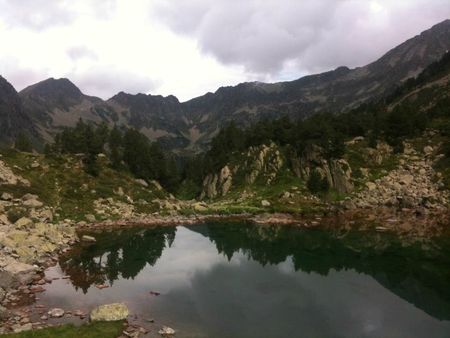 mercredi 28 Août 2013
Jour 30
Wednesday 28th August. I slept exceptionally well, with crazy sci-fi dreams of living in an alternate world, and being the hero of some extraordinary adventure where two very different species of humans exist, and I had infiltrated the other side. And the heroine was none other than... Angelina Jolie!!! Haha... clearly I haven't seen enough girls on this mountainous escapade.! I woke early, refreshed, and fell back asleep for more wicked dreams. Evidently, the minor oxygen deprivation at 2185m altitude is working wonders for my sleep! Weather wise though, we're far away from wonders: it's an abomination of fuckiiiiiiiing shite clouds! I literally can't see further than 20m. And it's 3°C!!! For fuck's sake... I'm once again being raped over and over. I so want to nuke the Pyrenees, level the whole motherfucker to the ground!!!! Well... my toe doesn't hurt too much, but I know that as soon as I start bashing it against a nasty rocky path... I will again be a martyr to this vile swine of a mountain! I bandaged the wounded phalange like I could and, depressed by the shit weather, I gave up on leaving in the morning, figuring that today I wouldn't make it further than down into the valley anyway. So this fucker of a wooden plank by the chimney has cost me a day! I'm back to a 39 day target I wrote up my travel journal, had a mid-morning nap, and left reluctantly at 14:00. The prospect of a 1400m descent with my battered toe and slippery shoes on wet rocks filled me with dread. Initially I made regular progress, but that was on flat ground or climbing up. Climbing down is what I was worried about, with my feet pressing against the tips of my shoes, my toe was certain to severely ache. Well, whist walking I was thinking of how I would write this all up, and all manner of rude words were echoing in my mind. I have decided to censor some of this vulgarity, and I'll just say that as I dangerously flirted with the Dark Side of the Force, only my spite and venom fuelled me on. The interesting thing is that despite my injury, I'm pretty much keeping to the estimated walking times (whereas before I was reducing them by 30-40%). The real issue is the associated pain: it's non-stop! Can I put up with this for another 10 days? Nothing is less certain I'm not a sodding quitter, but nor am I a masochsit! I made victory mine too early by anticipating success 2 days ago, and now I'm paying the price for my arrogance. Even my homecoming party in Paris is potentially compromised! And it certainly wouldn't have the same flavour anyway if I have to abandon the route before reaching the Mediterranean Sea.At 18:30 I walked past a mountain hut from which I could see smoke rising, and that was enough to lure me in! A couple, Pascal and Carole, had started a chimney fire, and it all felt too cozy and inviting to turn down. I knew I had it in me to reach Mérens-les-Vals, but then I would have to seek out shelter and with my injured foot I could sense I wasn't going to enjoy the challenge of improvising a rural bivouac. So I chilled out for the evening, saddened at the thought I might have to throw the towel in, forfeiting my claim to fame. Should I take the train at Mérens-les-Vals tomorrow morning? It would be irresponsible for me not to consider the option. We'll see how things shape up... tomorrow is another day...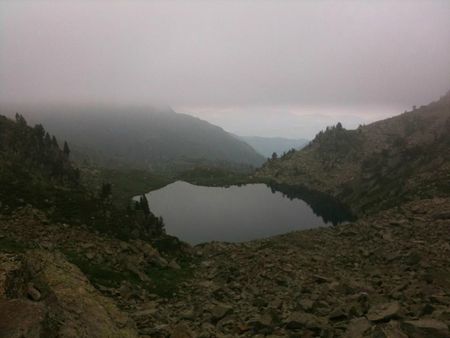 mardi 27 Août 2013
Jour 29
Tuesday 27th August. Soooo... how does my left big toe feel? Hmmm, passable... hopefully I'll pull through. The day began laboriously with again a bloody ridiculously steep ascent, which was a mirror reflection of the fuck-off steep descent I did yesterday evening. I'm really sick and tired of this bullshit, especially since I'm once again treated to a shower curtesy of endless wet ferns. Ferns are prehistoric plants which have barely evolved over millions of years, much like sharks, but apparently ferns in Ariège have evolved into showers!!! As I reached the next pass... I was just so blasé I didn't care anymore. The landscapes are all banal, and I've seen it all 726 times before, actually no... 10597263 times. Look, I don't want to offend anyone, and I don't know what the Plateau de Beille is like objectively, but subjectively it felt like a gloomy desolate shithole. My saturation levels are dangerously high... all I can think of is : retard weather on a retard mountain with a retard GR10 hiking trail. And the greatest retards of them all is ME to put up with this craaaaap!!! I should chainsaw my own legs off to stop this crazy jaunt!!! As I plodded along my left foot began hurting, clearly the big toe was sore, and it's skewing my entire foot with awkward steps. As a result, I'm slowing down and losing time, and I fear I won't make it down to Mérens-les-Vals in the valley. I can't bloody believe it, I've hurt myself with a "domestic injury" by a chimney, not even out in the wild braving the elements! I should have better left that fucking log fire alone last night!!!! By mid-afternoon the thick as yogurt fog did partly clear up, the clouds drew open their curtains briefly, and admittedly the panoramas were breathtaking. The absence of bright sunshine made for wild, savage, austere scenery. I can't even complain any more that there's nothing to see, but soon the flood of clouds enveloped me again. What a fucking shit day! And just as my luck would have it, the terrain is becoming terribly rocky and convoluted! My foot now hurts like hell, my feet are wet, it's cold and miserable. Cherry on top of the cake: my shoes are also showing their fatigue, the soles are very worn and are loosing their grip. FUUUUCK!!!!! My nerves are on edge, and much like my shoes, I too am losing my grip! I yell my fury, roar my rage, shout my anger!!!! Arghhhhhh! Actually, no... ARRRRRRGH! Hulk would be afraid! By 6pm I reached the Ruhle refuge and called it a day. There's no way I'll reach Mérens-les-Vals, not with a hurt foot and vicious clouds ready to gang-bang me. So here I was, stuck at 2185m... but at least I was safe. I found some "arnica" type cream for my toe, had an early nap and then dinner, in a rather morose chalet ambiance, as if all the other patrons were also subdued by the shiiiiiiiiit weather. Whilst comfortable and dry, I didn't sample as much human warmth as on previous occasions, possibly because I myself wasn't in the right mood. I read some magazines, and went to bed, resigned at my misfortune


(le refuge du Rulhe - 688ème km / 896km)
lundi 28 Août 2013
Jour 28
Monday 26th August. Strangely I had a rather restless night, as if sleeping in a dormitory specially made for hikers was at odds with my "fend for yourself" approach. Still, what was 200% compatible with my state was... a hot shower!!! What a delight, and clean(ish) clothes as a bonus! I had breakfast with Nina Scheffer and then her dad Fabrice kindly gave me a compass (which hopefully I won't really need to use). Then I committed some epistolary time to my Pulitzer prize-winning scribing, posting 3 days of travel journal, and answering my (fan)mail! Before I knew it, it was lunch time, and once again legendary Ariègeois hospitality ensured I was enjoying a delicious luncheon with my hosts. I finally left at 15:50, my latest departure time to date. I literally sonic boomed uphill at +860m/hr, fuelled by all my FB interactivity. Thank you thank you thank you for all your support, it has literally pumped nitroglycerine into my engines! GR10, I am no longer your bitch, now you're my bitch!!! Even so, the weather did turn sour again, and it began raining once more. Goddamit punk, give it up will you!!! You can throw a bloody erupting volcano at me, I'll lick it up like a popsicle or a chupa-choop, and I won't even fart when finished!! I have a one-way ticket for success and glory at Banyuls-sur-Mer, nothing can stop me now! So retard weather, quit fannying around with me!!! And if you do insist in bugging me, I'm introducing you to my 2 friends "medieval battering ram" and "Star Wars plasma canon", and once we're done shafting your fuckwit arse, the term black hole will have an entirely alternative meaning! Clearly my artillery of weapons of mass dissuasion worked, since the rain abated, and so I raced on. During a 5 minute pause I pulled out some of Loofille Demetz's fabulous apple crumble which she specially made for me, and which Eric Chaigneau brought me last night. My oh my... what a sensational snack that was! Soooo much butter... yummyyyyy! Thanks so much my friends! And generally speaking, thank you to all: Nellie from Eylie-d'En-Haut, Adeline and Francis from Esbints, Pauline and Jean-Charles from Gîte l'Escolan Ustou, Dominique from Bassiès, Nina and Fabrice from Siguer. You are the true heroes of this adventure, I'm just a messenger relaying your kindness and hospitality! Like Hermes/Mercury and his winged ankles! At the Pla de Montcamp I met 2 shepherds in a caravan and we had a quick chat together. They offered me some pastis (which I declined, I don't like aniseed) and then enlightened me on how Gore-Tex clothing really isn't what it's made out to be, not for them at least who spend half a year outside in wet conditions. As the clock ticked on, I sped on, very satisfied with reaching the Clarans EDF hut in 4h55 instead of 8h30! Nina Scheffer, please tell your dad that timing-wise, it's doable in under 5hrs if you put some solid muscle into it Well... omg... this hut is just the best hut in the world! The Petit Gîte de Siguer stock it up with tin-cans of food and drinks! You help yourself, and then pay at the next mountain refuge. Using the provided camping gas stove I heated some cassoulet and had fruit salad for desert! Wow! I even succeeded in lighting my very first ever log fire ever in my life I think (I know... it sounds odd, but captain green beret here - that's me - hardly ever gets to light camp fires, etc). I felt like Davy Crocket (or Jeremiah Johnson or Dersou Ouzala, for film connoisseurs) in his trapper's cabin in the woods. And, truth be said, after all this time socialising, it was good to be alone again for an evening! The only minor glitch is that a heavy wood plank fell from the chimney on my left big toe! Ouuuuuch! It hurt a lot, but hopefully it's nothing serious (the nail is intact). I laid out my bed on the kitchen table opposite the cozy chimney, and at 00:30 it was bed time for the Pugnacious Pyrenean Perambulator! Good night


(Siguer et son petit gîte - 654ème km/ 896 km)
dimanche 25 août 2013
Jour 27
Sunday 25th August. This morning I was faced with a hard decision: how do I deal with my "lost day" from yesterday? I have 2 options, either 1) I keep to my strict itinerary and this piss-poor (or "pour"...?) weather malarkey puts me one day late, or 2) I cut corners and shorten my itinerary by a few kms, missing out on a valley or two and an umpteenth lake. Whilst very tempted to strictly keep to my initial itinerary, I leveraged yesterday's insight and wisdom and opted for flexibility. Doesn't the saying go "only fools don't change their mind"...? Besides my aim is to link ocean to sea by crossing the Pyrenees by foot without ever taking a vehicle (least of all an ambulance to the nearest hospital...), not to obsessively follow every bloody kilometre of the GR10 trail. As it is I've felt too often a "slave/prisoner" to this journey... but no more! Fuck you GR10, I'm making you mine, not the other way around!!! So with minor artistic licence, I'm taking a small shortcut (besides, it's "officially" indicated in the guide book as an itinerary variant) and cutting off 2 (stubborn) donkey ears ("useless" meanders in the path, Eric Chaigneau will understand!). So I don't lose any days, and what I lose in my geographical path, I have made up in my path to self-awareness. I have very little to say on the actual day's walk, except that it began slowly with Didier, and after our lunch break I switched to turbo and literally catapulted myself to Siguer in essentially half the estimated walking time. Physically I feel just greaaaaaaat (despite some scary photos where I look very emaciated indeed...). So let's talk about Siguer... I was expected there at the Petit Gîte de Siguer by Nina Scheffer, Fabrice Scheffer, Eric Chaigneau and Stéphanie Thibault, and as I reached the guesthouse I had a modest hero's welcome, with a dozen people waiting for me in the street, and we had a fabulous apéritif with champagne and shared GR10 war stories. Ensued a fabulous dinner with a joyous crowd, with tasty and hearty homemade food and more chitchat about our mountain tales. It was brilliant, with terrific hospitality, and plenty of human conviviality which I miss so much when I'm rambo-ing in "lone solitary wolf" mode. As the evening drew to an end, I considered sleeping on the village's tennis courts, but opted for a more comfortable and never encountered before option: a free municipal dormitory which the village makes available to hikers! Thank you Siguer!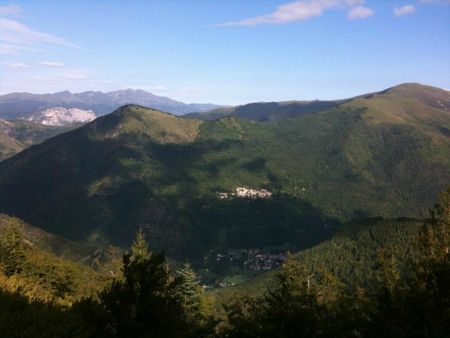 (Siguer dans la vallée - 654ème km / 896km)